I have a challenge for you. Try to find at least one (useful) SEO article that is less than 6 minutes long. Good luck 😉!

You'll discover that such articles are hard to find and there is a reason for that.

As if today, there are roughly 2 billion websites on the Internet and businesses have to compete with these websites for visibility. Search engine visibility.

When you search for something on Google, millions of websites are competing to rank the highest in your search results (next to paid advertisements). The higher you rank 🏆, the more visitors and potential customers you get.

To rank up high in your search results, Google has set a lot (.. a lot) of rules in place intending to serve you the best possible content. This system is so complex, that you can compete for high SEO scores in a million different ways.

This is the reason why all these SEO articles are so lengthy. There's an entire world around SEO.

But as small business owners, we don't really care too much for the nitty-gritty of SEO. We want to know just enough to gain more visibility.

That's exactly what I'll give you in this article! The most important aspects of SEO and how you can apply that to your website.
The three pillars: Technical SEO, Content and Engagement
Back in the day, SEO was heavily focused on the technical aspects of websites. This has since changed dramatically and the quality of your content has a bigger impact on your rankings than anything else.
The importance of technical SEO shouldn't be understated though. It still lays the foundation for excellent web performance.
Technical ⚙️
This section is all about the on-page SEO and is mainly influenced by your site files (the code). Mainly your HTML, CSS and Javascript files.
Site speed
How fast does your website load on desktop and mobile? It's an important piece of user experience and it's something you can't afford to neglect.
How to:
Compress images
Make your image files as small as you can (individually for mobile and desktop) while still maintaining their quality.
Minify and combine your site files
There are free tools that can help you to remove all unnecessary space in your code to reduce the overall file size. This usually accounts for only a small amount of space on your website.
Load your content (HTML) before CSS and JS files
One way to improve your loading speed is to prioritize what loads first. It's only a matter of split seconds but it's just enough to give your site visitors the illusion that it loads in a whim.
Cache your pages
You have the ability to cache your HTML & CSS files. This means that when a customer has visited your website more than once, it doesn't have to load everything all over again. Their browser will store your files for their next visit.
If your website is running on WordPress and you don't have the technical knowledge to do this yourself, there's plugins that help you with this.
A plugin I recommend that takes care of everything I mentioned above is WP Rocket.
Structured data
Help Google's web crawlers understand your content by giving it extra context with schema markup.
If you write a blog post, for example, Google wants to show the featured image, who the author is and when it was posted.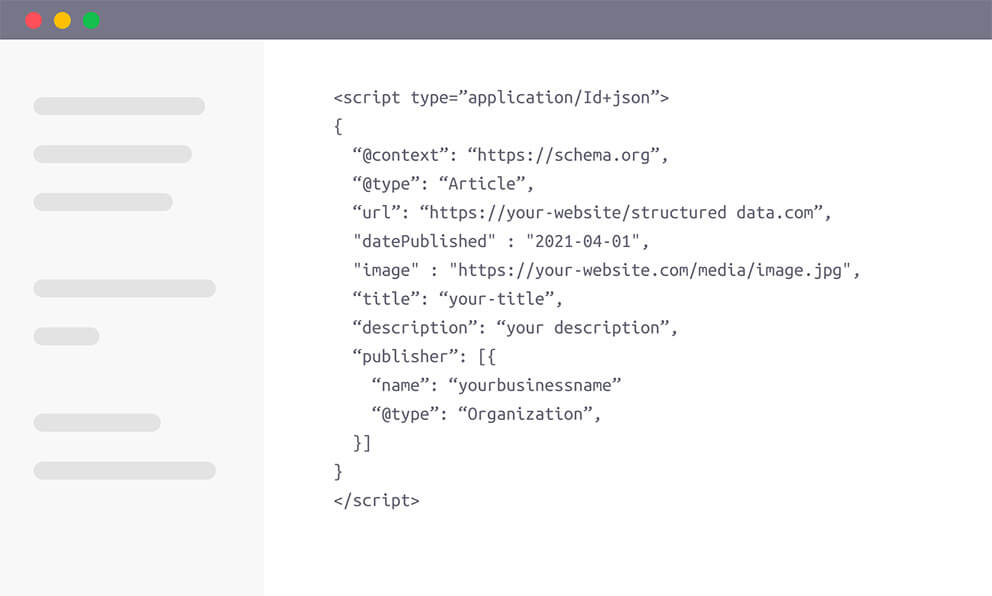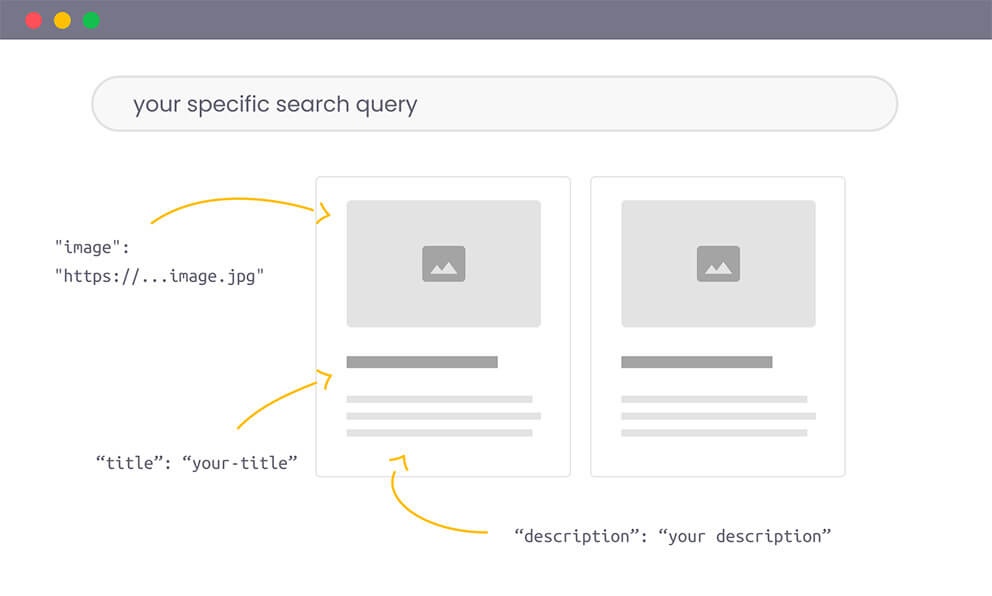 It also gives you a chance to rank for featured snippets. This is when you ask Google a specific question, either in a web browser or with voice control, and it returns a short and specific answer.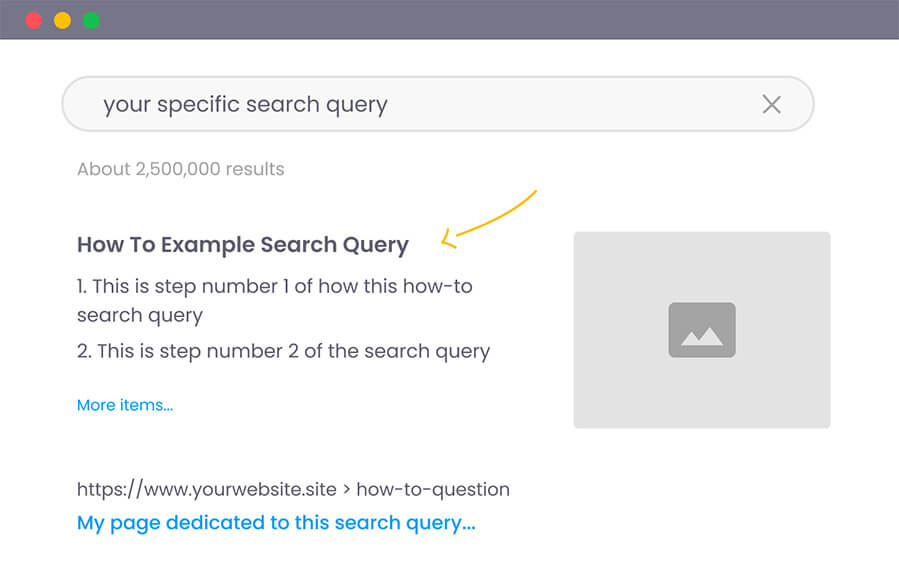 You can find all types of structured data on the official schema.org website.
Mobile-friendliness
Is your content formatted well for mobile devices? The responsiveness of your website is crucial to a user experience that satisfies your site visitors and web crawlers take this very seriously.
How to:
Try to avoid pop-ups, dropdown menu's and horizontal scrolling
Make your text readable on smaller devices
Interactive elements have to be easy to interact with
Don't hide content that's only visible on desktop
Check your websites mobile friendliness with Google's very own tool.
Semantic HTML & Page structure
If you logically structure your web pages with rich semantic elements, you'll help Google understand your content.
Include at the following tags on your web pages: <main>, <article>, <aside>, <header>, <footer>, and <nav>.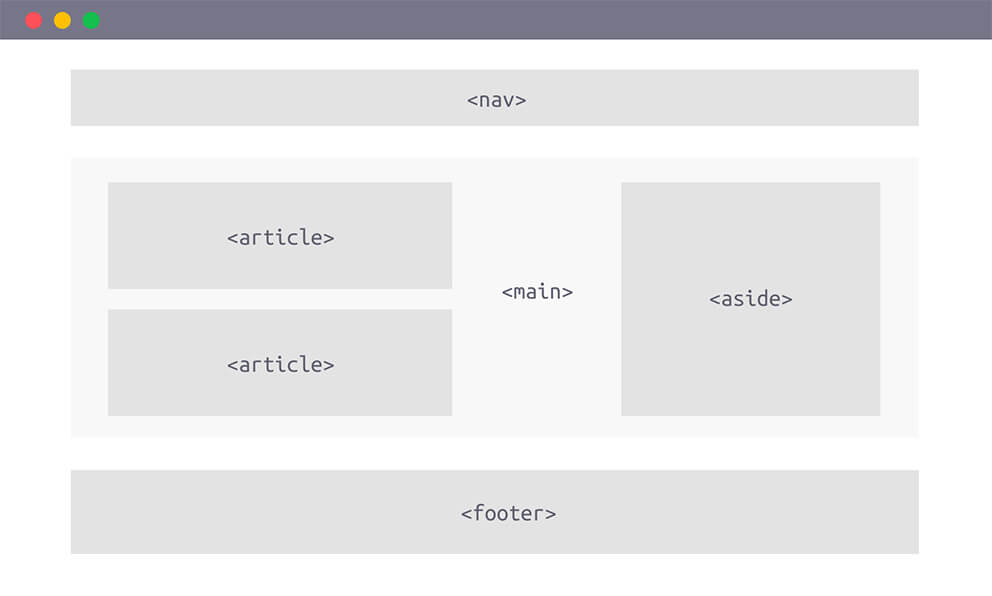 For a more comprehensive guide on page structure, check out this guide.
Content 📇
This second part will be more relevant to those who don't fancy getting involved in the technical aspects of search engine optimization.
Providing your customers with quality content has gotten more important over the last few years. Here's how you can do that:
Domain authority
Domain authority used to only be influenced by links. Very recently, Google's algorithms are also evaluating your site based on trustworthiness, authoritativeness and expertise.
How to:
Be an expert
Your content has to contain quality content and advice. You might want to hire someone to do this as this is a tough thing to fake.
Be transparent
Anonymity will hurt your search engine visibility greatly. Be an open book if you can. Give your visitors a comprehensive about page, contact page with company info, references and external links to trusted sources, privacy policy, terms of service and even info about all the authors on your website.
Get cited
Getting other people and trusted websites to cite you and your work fights 'fake experts'. This can happen on social media, blogs or even podcasts.
To gain domain authority, you have to put out quite some quality content for a while before you see any results. There is no shortcut.
Keywords and their search intent
Is your customer finding what he/she intended to find? This concept of giving users exactly what they want will be a big focus in 2021.
When your customers type in keywords in their search engine they have one of the following goals:
They want to find information
Maybe they want to buy something
Or they'd like to compare products
How to:
Your job is to find out what keywords your customers use to find your products or service and match your content to the intent behind these keywords.
Meaning if a customer is looking for 'paleo desserts', it doesn't necessarily mean they want to buy desserts. They might just want to find a recipe for it or learn more about the paleo diet.
A good tool that can help you with this is Google Keyword Planner. If you want to use a more advanced tool with a wider range of features, you can try SEMRush.
Linking (backlinking, inter-linking)
It has been said that linking is losing its importance. Rest assured because a recent study showed that is has the same relevance as it did in 2016.
Link building has everything to do with how amazing and relevant your content is. It's sort of like an active ecosystem of back and forth linking.
It consists of other websites linking to your site and your site linking to other parts of your site.
How to:
Create valuable content and other websites will reference you as a trusted source
Create infographics and PDF guides
Consider guest blogging
Reach out to other bloggers and journalists
Contact websites with broken links asking if they want to replace it with your website
Engagement 🔥
To wrap this guide up, I want to provide you with one last piece of advice.
Focus on giving your customers more content to interact with. It will be one of the most important pieces of the SEO puzzle in the upcoming years.
Websites that encourage engagement experience a huge jump in retention rates. These websites are focusing more on augmented reality, video content and other interactive tools.
Next to that, a question you might want to answer is: how am I going to get people to talk about my product or service?
If you can get this one right, your customers will generate content that is promoting and spreading the word about your products or services.
Conclusion
Google's algorithm gets updated at least 600 times a year. Techniques that work for you now might not work anymore in 1 year.
And depending on the size of your business, you might do this yourself, hire a professional or an entire team to handle SEO.
I only scratched the surface here but it is enough to get you started.
If your business is looking for help with gaining more online visibility, you can set up a chat with us to discuss how we can make you stand out from your competition.