You're a business with a beautifully designed website.
It carries all the bells and whistles, but there's just one problem… how are customers going to find this website 🔍?
We need to build you an online presence and increase your site's visibility!
Building an online presence doesn't stop at sending out emails to your subscribers or publishing a series of Google ads.
Social media plays an outrageously big role in establishing an online presence and building brand awareness.
Yes, email and Google ads are still powerful tools and they are here to stay!
But whether you are targeting younger or older customers, social media is where they're at. More specifically Instagram.
It appears that a whopping 90% of Instagram users are following at least one business, it's a booming market! It's a popular platform to visually connect and engage with customers on a personal level.
Now Instagram has been acquired by Facebook, businesses are able to seamlessly connect their marketing channels. It's only a matter of time before LinkedIn also joins in.
What you will learn:
Why Instagram marketing is valuable for your business
How to set marketing goals that drive results
What metrics to pay attention to
Tracking tips that will help you pivot your strategy
How your business can benefit from Instagram
For those of you who aren't fully convinced to go down the Instagram route yet, I want to address how it can dramatically benefit your business.
Engagement is everything now
Instagram is one of the most appealing platforms you can use as a business to connect with your customers on a personal level. All you have to do is engage in comments and reply to private messages 💬
If you sell products or services, you're able to extend this communication cycle between you and your customers.
Yes, more than just a post-purchase email saying 'thank you for shopping with us'.
Customers can tag your business in pictures they upload from purchases they made.
Not only is this incredibly valuable feedback on how your business is performing, but it gives you a chance to include them and make them feel like they're part of your community.
An online shopping experience doesn't have to stop after a transaction, it can be a gateway to build tight-knit relationships with your customers.
Visual and video content are skyrocketing
'I can add visuals to my email marketing and Google ads, how is Instagram any better?'
I hear you. But I have a feeling that the current savvy customer looks right through your ads and generic email campaigns. They all look the same and smell like templates.
Instagram is a platform built for visuals and it's not as overrated, not yet at least. It's an opportunity for marketers to engage with their audience more deeply.
If you own a bakery, for example, you have the power to make people drool over beautiful images of your pies and cupcakes 🤤.
When I land on a website that has excessively large (quality) imagery of their products, I'm sold faster than when I read a bunch of boring unique value propositions.
Seriously, look at this.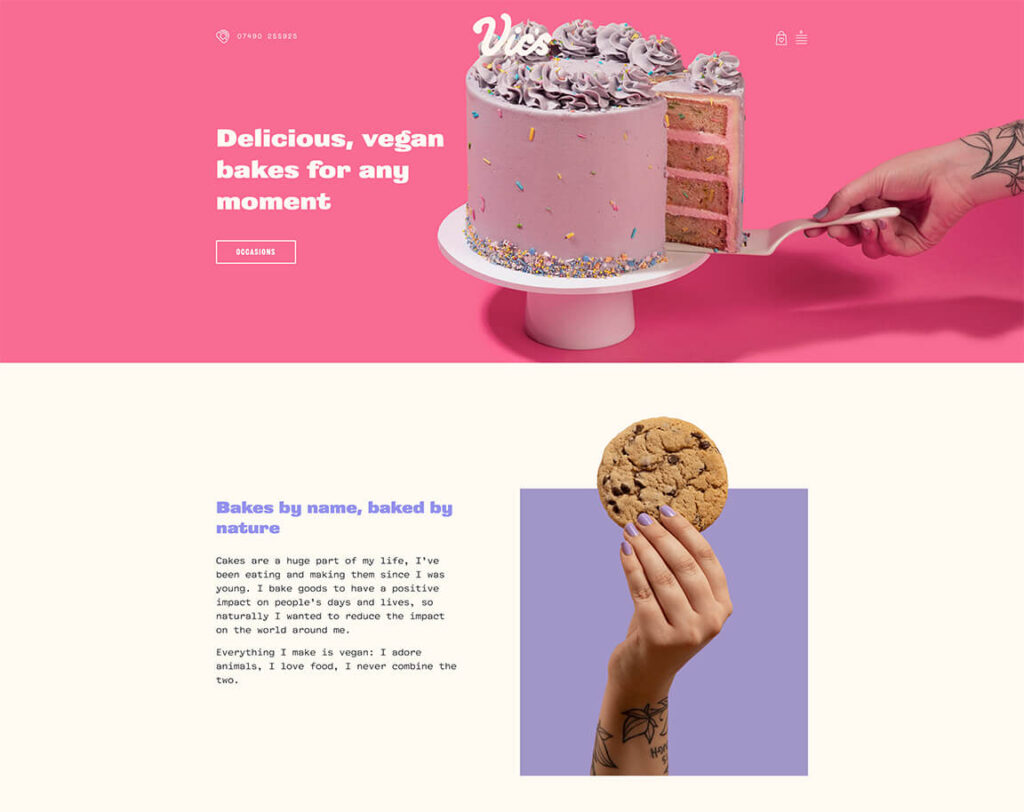 It's love at first sight 😍.
To link this back to Instagram, here is an example of a company named Dharma Fine Vittles that is absolutely killing their Instagram game.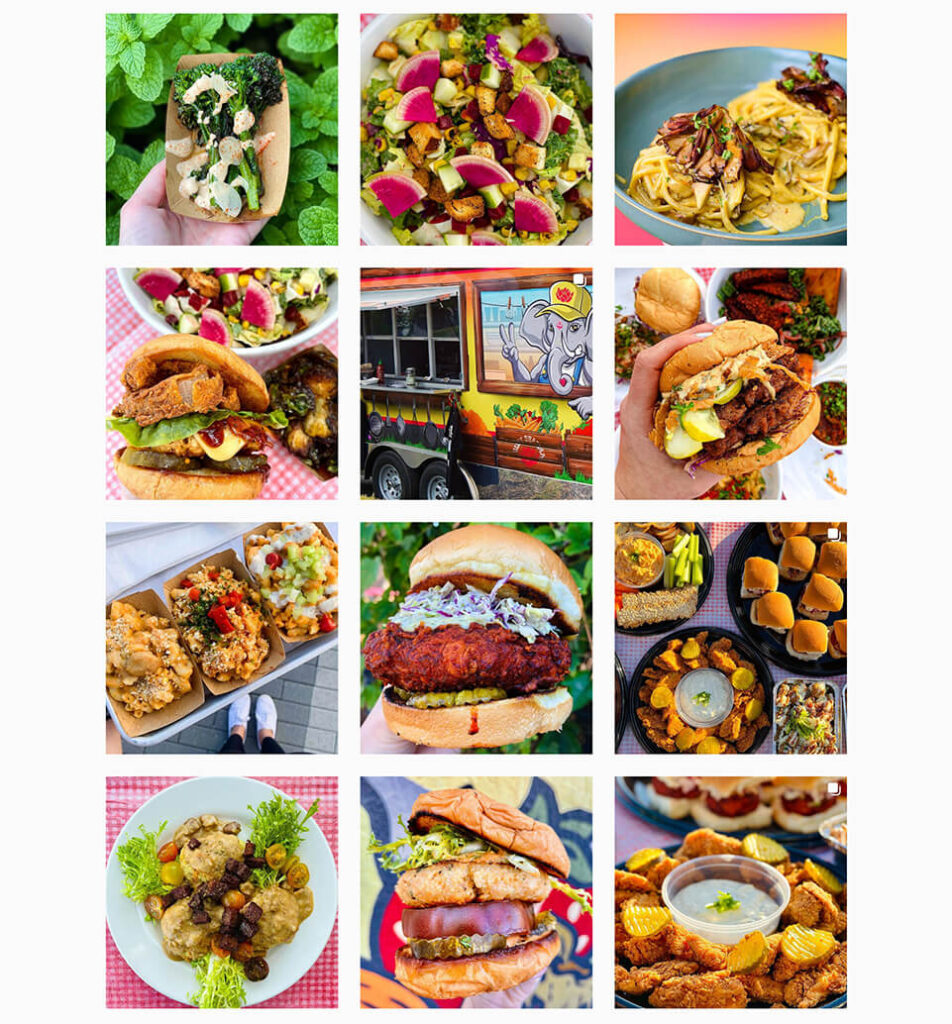 And these are just companies in the food industry. Whether you run an eCommerce store, sell online courses or provide a digital service, you can use the same strategy and show your off your products with contextual images.
A couple other benefits of Instagram marketing are:
building brand awareness
content distribution
lead generation
and customer support
Setting Instagram marketing goals 🎯
If you have planned several other marketing strategies before, awesome! You can probably skip most of this.
If not, I advise you to go through the following steps with me to make sure your marketing efforts are not 'all guts and no brains'. It's hard to know exactly how well your strategy is performing without setting these goals upfront.
Start with an Instagram audit
Chances are you already have a history of instagram posts on your business account. You can skip this step if you're starting from scratch.
An audit helps you understand how you're currently performing and it will help us plan in harmony with your existing content. You might have older posts or profiles that are still perfectly usable but they just need to be revived.
Here is how you perform an audit:
If you have more than 1 instagram account for your business, track them down by doing a quick google search
Make sure all accounts are aligned and on brand with the same profile images and banners
Identify your best posts and figure out why they're doing so well
Evaluate your existing audience. It will save you a bunch of research later in the process
Standardize passwords and ownership across all accounts
Ready to attract more customers?
We help brands like yours expand their social reach and attract more qualified leads by crafting marketing campaigns engineered for success. Get in touch with us and start generating results that have a tangible impact on your bottom line.
Schedule a call
Set your goals
With the information you gathered or already had, think about what goals are important that will move your business in the right direction. Don't just set goals that are easy to track so they can just sit there and look pretty.
What is your overall marketing strategy? Is that working? If it is, than align your instagram marketing goals with that strategy.
I'll list a couple of meaningful goals you could set for your Instagram marketing strategy. It's hard to know what to look for when you've never done this before.
1. Increasing brand awareness
Grow Instagram following
Increase views on my posts
Get more mentions from other accounts
2. Drive more traffic to my website
Get more visitors from Instagram
Decrease bounce rate from Instagram traffic
3. Boost Instagram engagement
Get more likes, comments and shares
Clicks per posts
Number of people participating in your contests or giveaways
4. Offer customer service on social media
Increase response time to customers
Improve on your customer satisfaction score
Number of customers requesting support
5. Generate new leads
More clicks on Instagram lead magnets (e.g. posts with CTA's)
Increase conversions for lead magnets
Amount of downloads on our free content
Convert your goals into SMART goals
In a previous article, I introduced you to the S.M.A.R.T. goals formula. I found this in a book written by Robert Ashton 'Sales for non-sales people'.
It's an acronym that stands for Specific, Measurable, Attainable, Realistic and Timely.
This formula will undoubtedly transform any ambiguous goals into specific and achievable goals. It's a timeless formula that keeps you accountable.
Let's do one example goal together
I want to grow my Instagram following
Specific: I want to grow my Instagram following by 50%
Measurable: I currently have 2,562 followers and need to get that number up to 3,843 followers
Attainable: Having already done an Instagram audit and optimized my account, we only have to start posting content
Realistic: Having hired 2 social media marketers, we have enough workforce to achieve this goal
Timely: Our target is set for June 12th
Optimize your business profile for engagement
Now you know what direction you want to head in, it's time to ensure you're delivering a unified brand experience before you start posting any content.
Besides crafting a compelling 150 character bio, uploading a professional profile picture and adding a link to your website, here are a few things you'll want to look at:
Convert to a business account if you haven't already
It's a pretty straightforward process to convert your account to a business account. When you do this, Instagram gives you access to analytics tools to help you analyze your performance.
You get access to promoted posts and Instagram ads, and you also get analytics tools to grow your reach and engagement.
Figure out which hashtags to use
When used right, hashtags can serve as a powerful marketing tool.
You can use them when you have promotions, host events, contests or have a product launch.
Try to avoid hashtags that are widely used in your industry and try to come up with unique ones. Use these hashtags as much as you can so it becomes a commonly used term amongst your customers.
Allbirds is a good example that has created hype around their hashtag #weareallbirds. It's their most used keyword and customers can easily use it to find them online.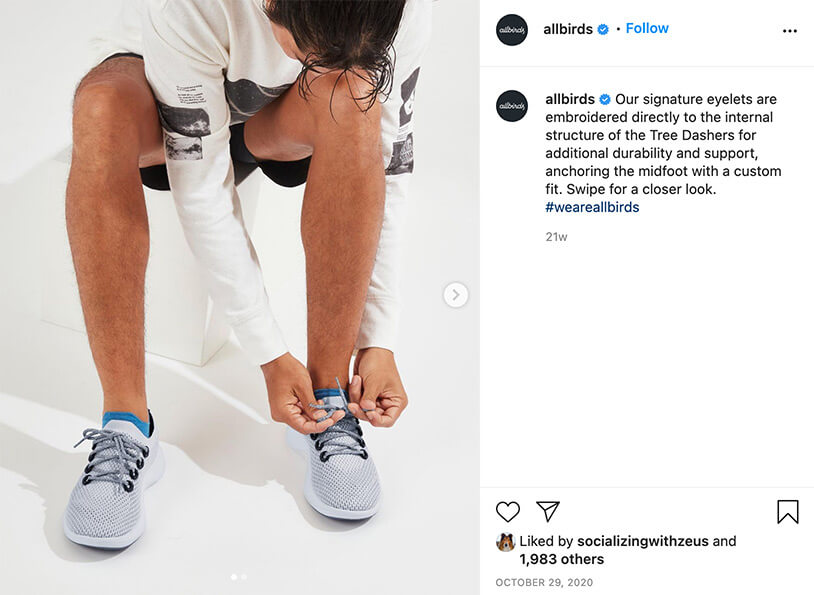 Upload beautiful content
There are many theories floating around about Instagram's algorithm. Just like Google's algorithm, it gets updated a lot and it's a waste of time to get stuck up in this unless it's is your full-time job.
You just have to keep 3 things in mind when posting on Instagram.
Quality over quantity
Consistency over frequency (3-5 times per week Ideally)
Engage on other account and your own posts
Instagram posts
When people view your Instagram account, they can see a grid containing 12 posts. It's desirable to fill this entire grid up as fast as you can.
Only after that, you can expect to see some results.
If you have the privilege of planning posts in advance, consider laying all of them out in some design software to see if it's correctly conveying your brand personality. Are they telling a story or are they all over the place?
You don't have to obsess over this of course. As long as they're quality posts and your images are sharp.
Some ideas for posts are:
educational Instagram carousels
behind-the-scenes images, to show the humans behind your brand
videos
and contextual product images
Don't neglect your captions
I know that I was very extreme about how amazing visual content is, but that doesn't mean you should completely ignore adding text to it.
Here it's important to make your captions as scannable as you possibly can. It's social media and people scroll fast.. very fast.
Captions can be a maximum of 2,200 characters long but I recommend keeping it short.
Instagram stories
Instagram stories are like trailers for your posts. This is a place to lead people to your posts and to promote them.
There is a neat mental trick involved in Instagram stories.
They are time-sensitive and this is an extremely helpful tool when you want to give your customers the feeling they're 'missing out' by not buying your product.
You can also use them as little 'content snacks' such as updates, promotions or just playful content. You can show a bit more of the human side here. It'll give your followers an intimate connection with your brand.
Measure and improve
Having SMART goals in place, you have metrics to pay attention to once you start gaining traction on your Instagram account.
Has your follower count increased?
How many comments are you receiving?
Which hashtags are creating the most engagement?
Where does your traffic come from?
A few starting tools that give you these insights are Keyhole, Socialbakers and Squarelovin.
If you're looking for more comprehensive tools to help you with this, consider SocialSprout or Hootsuite and see if they have a pricing package that your business can afford.
It doesn't really matter whether you're using free or paid Instagram analytics tools.
They will only benefit you when you have clear goals in place and knowing how to use these numbers to pivot your strategy when necessary.
Conclusion
Instagram marketing can seem daunting when you see how complex it can get.
Determine how complex it needs to get for your business.
If you're just starting out, it's fine to just set a goal of creating an on-brand account and posting 3 times a week for 3 months straight.
As a business owner you likely already have a lot on your plate, and it might be smart to hire someone that can do this for you.
It looks expensive at first, but the return on investment goes way beyond what you spend on it.
We help take the guesswork out of your marketing and will gladly assist you with this so you can focus on running a business. Get in touch with us if that sounds like something you need.