You have a new product idea, you want to scale your existing eCommerce shop or you're simply unsatisfied with the current platform you're using to sell products online.

Exciting!

You're envisioning this brand new, beautiful shop and start researching the most popular eCommerce platforms. After about 30 minutes of trying to figure out what would be a good option for you, It quickly becomes apparent that it's not as straightforward as you'd hoped it to be.

eCommerce is a big and diverse landscape, and there is no shortage of platforms you can choose from that claim to successfully help you on your entrepreneurial journey.

Every platform has a different range of features and prices, for small and big businesses.

This platform was recommended by a friend or colleague, that one got promoted by an online expert but the reviews on it aren't that positive 🤯. What do I do?

By the end of this article, you'll have a solid understanding of what's important when running an online shop and you can look at a detailed but easy-to-understand comparison that I've created for you.
The 6 essentials of running a successful eCommerce store
Scalability
Identifying a platform that can support the size of your shop is probably the best place to start. Or maybe you're planning on scaling in the near future.
The point is, picking a platform that can grow with you means that you won't have to worry about the costs and frustrations that go alongside site migration and learning a new eCommerce platform.
A scalable eCommerce platform has the following attritbutes:
You can bulk update and edit product fields and information and add new workflows
Its database infrastructure can sustain growth. A cloud-based solution is a perfect example that hosts your eCommerce shop for you. You don't need to download anything, manage updates or set up data storage — it's all taken care of by the software vendor
Robust web hosting. When a lot of customers are using your site at the same time, your servers need to be able to handle this.
It's common for online stores to experience rapid growth in a very short amount of time. Once the user experience suffers because of increased traffic, the business suffers too.
Ease of use
If you can't work your way around the content management system and have a frictionless experience maintaining and growing your shop, don't bother investing in it.
The backend or 'Content Management System' (CMS) is the visual interface you interact with to create, edit, publish and maintain your shop.
It's a system that allows you to modify the look and feel of your store without using any code!
You and your employees will probably be interacting with the CMS on a daily basis.
If you've never run an eCommerce store before, you're probably not familiar with the process. So here are a few characteristics of an easy to use CMS:
Create and edit content with ease
Channels to communicate with customers
Ability to collaborate with team members
Remove reliance on developers
If you find a platform that catches your interest, consider requesting a demo. If you can create a free account to test it out, even better! I suggest taking the time to find out how easy it is to navigate the backend.
Payment options
Have you ever shopped online and they didn't have your preferred payment option? No, me neither. It's an absolute must have for businesses to offer almost every available payment option out there.
Your customer can have the best shopping experience of their life, but if they can't make a payment fast, you risk losing them.
There are quite some services out there that offer a variety of payment options. A few popular examples are Stripe, Square and 2checkout.
Security
An online shop receives a great deal of personal and sensitive customer data. And Google is very strict about web security.
Pick a platform that takes the appropriate security measures such as HTTPS, SSL and even PCI Compliance. The last thing you want to experience is having your customer data being compromised.
Integrations
The life of a store owner doesn't stop by simply buying and selling products. You track, measure and evolve based on customer behaviour. What about customer service? How will you communicate with your customers?
Do a quick search to find out which integrations or plugins are available to you. They allow you to customize your shop, add nifty features and even setup marketing automation. Because hey, no CMS is perfect.
Look out for:
Accounting options
Marketing automation (think triggered emails and social media ads)
Analytics tools
SEO & Mobile-friendliness
Last but certainly not least, a platform that is optimized for fantastic mobile shopping experiences. It is expected to account for 54% of total eCommerce sales by the end of 2021.
Meaning this is now officially the main channel for online shopping. A mobile-first approach is, therefore, a priority for eCommerce businesses.
Pay close attention to:
Mobile loading times
Navigation
Mobile checkout process
Built-in optimization for all your visual content
Additionally, check how much control any given platform gives you over SEO.
This includes:
Independent navigation links
Independent page titles
Independent page URLs
Structured data (schema markup)
Semantic HTML
Integrated blog
Customer reviews
Social sharing buttons
Auto XML sitemap
Custom domain name
Robots Noindex Capabilities
Platform comparison
Now you've gained a better understanding of the ins and outs of a successful eCommerce shop, it's time to compare a few popular platforms. I have created a comparison of the following platforms:
Wix
Business size: small
WooCommerce
Business size: small to medium
Shopify
Business size: small to enterprise
BigCommerce
Business size: medium to enterprise
Magento
Business size: enterprise
Let the battle begin ⚔️!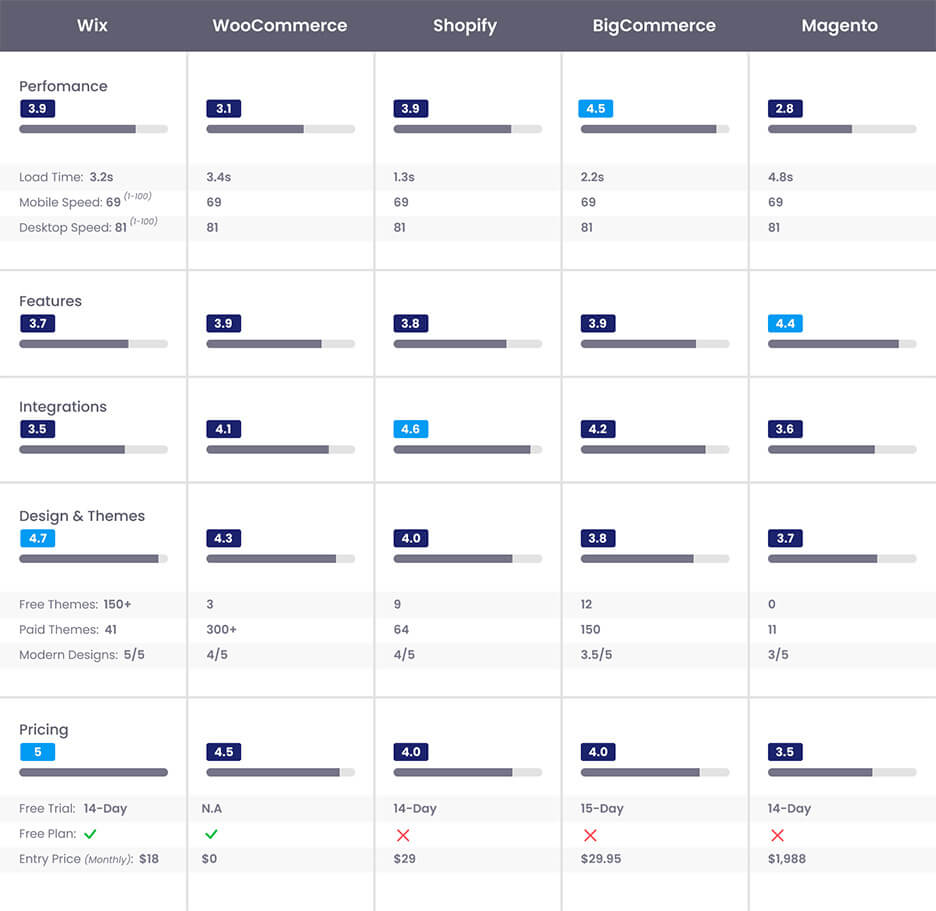 You'll notice that I haven't included specifics for features & integrations.
This is a very tough aspect to compare since all platforms offer a very wide range of different features depending on your pricing plan.
What helps is doing some discovery work on your business and finding out what your niche is. The more specific you are, the easier it will be to find out what's best for your business.
Conclusion
Starting an online business has never been easier and cheaper. If you're new to the game, then this article will set you off on the right foot. But each platform has its own strengths and weaknesses depending on what you want to use it for.
If you need help with setting up an online store, feel free to shoot us a message. We'll not only help you discover what is right for your business, we'll help you reach your objectives as well.