It's no longer enough for companies to simply offer a service or product and expect to experience real growth and stand out from the crowd.
Consumers have evolved and smartened up over the past decade and are putting more thought into what companies they choose to spend their money on.
A large number of new products and services appear on the market every single day which presents consumers with an overwhelming set of choices.
This means that brands have to go an extra mile to differentiate themselves in today's landscape to win new customers and retain the existing ones.
Bridge the gap between your business and customers
So how do we go that extra mile? How do we win new customers in this competitive landscape?
The short answer is combining the practical solution you offer with creating a connection between your brand and your customers.
And one part of creating this connection is through branding.
Branding in the nuttiest of nutshells 🌰
Branding is a long and complex process that includes a lot of discovery work and self-reflection. It's kind of like journaling and asking yourself a series of reflective questions, except … you do it for your company instead.
In essence, it's about figuring out who you are as a business, why you do what you do, who you do it for and how you are improving their lives with your product or service.
When branding is done right, customers identify themselves with your brand. And being very clear on who you're business is serving will allow you to tap into your customers' sense of self or identity.
"People feel an affinity toward brands they love that extends beyond their relationship with the products"

Emily Heyward – Author of Obsessed
It doesn't stop with solving a functional problem but extends way beyond that. It makes people feel a certain way.
In this article, we'll only touch on a small aspect of branding. We'll look at why intentionally designing a brand voice invites clarity and understanding between you and your customers and how it will win you more customers.
Who am I?
Now first we'll do a little bit of self-reflection and figure out who we really are as a business.
Dive a little deeper than you might be comfortable with and contemplate on every aspect of your brand, from your values and current personality to your logo and market positioning.
Here are a few reflective questions that will guide some of the discovery:
What functional problem do we solve?
What is our purpose and our mission statement?
What are our company values?
How are we currently being perceived?
Is this how we want to be perceived? Does this align with us?
Craft a human personality
In order for your customers to identify with your brand, you have to figure out what their identity is. Ideally, this is aligned with your and your employees' identities. This will make it so much easier to fully walk what you're going to talk about.
I suggest seriously considering interviewing your current customers and making a comprehensive evaluation of their personalities. Our goal is to craft a personality with human characteristics that your customers can relate to.
Humans don't relate to businesses, they relate to other humans.
This brand personality or identity must ideally include defining and identifiable characteristics that offer consistent and predictable messages and mental perceptions.
When you have a clear picture of this personality, put it on paper! Write down the interests, likes, dislikes, hobbies, activities, fears and desires.
A technique that will make it easier for you to create a human personality out of all that is using brand archetypes. Typically there are 12 brand archetypes but you are free to mix and match to create your own unique archetype!
The Innocent
Exhibits happiness, goodness, optimism, safety, romance, and youth.
Everyman
Seeks connections and belonging; is recognized as supportive, faithful and down-to-earth.
Hero
On a mission to make the world a better place, the Hero is courageous, bold, inspirational.
Outlaw
Questions authority and breaks the rules; the Rebel craves rebellion and revolution.
Explorer
Finds inspiration in travel, risk, discovery, and the thrill of new experiences.
Creator
Imaginative, inventive and driven to build things of enduring meaning and value.
Ruler
Creates order from the chaos, the Ruler is typically controlling and stern, yet responsible and organized.
Magician
Wishes to create something special and make dreams a reality, the Magician is seen as visionary and spiritual.
Lover
Creates intimate moments, inspires love, passion, romance and commitment.
Caregiver
Protects and cares for others, is compassionate, nurturing and generous.
Jester
Brings joy to the world through humour, fun, irreverence and often likes to make some mischief.
Sage
Committed to helping the world gain deeper insight and wisdom, the Sage serves as the thoughtful mentor or advisor.
Remember: these are simply guidelines. I even recommend breaking the norm, it'll give you a unique advantage over other brands.
Having done this discovery work puts you in an excellent position to create targeted marketing campaigns. You have a persona you can work with and that will do the talking from now on. It's the face of your business now.
Print it! Infusing your messaging with your brand personality
You know who your 'company-person' is now. The only thing left is figuring out how that person communicates and interacts with your customers.
Are you assertive and straight-to-the-point or are you humorous and playful? Deciding on this will help you with delivering a consistent brand experience across all of your communication channels (e.g. your website or social media)
Printable style sheets
Put a style guide in place and print this out on the walls. It's easy to underestimate how powerful this is in helping you and your employees to truly live and breathe the brand personality when communicating with customers.
Create printable sheets for:
the copy on your companies website
communicating to the press
engaging with customers on social media
handling customers issues
company articles
product announcements
Below is an example of what a social media sheet could look like.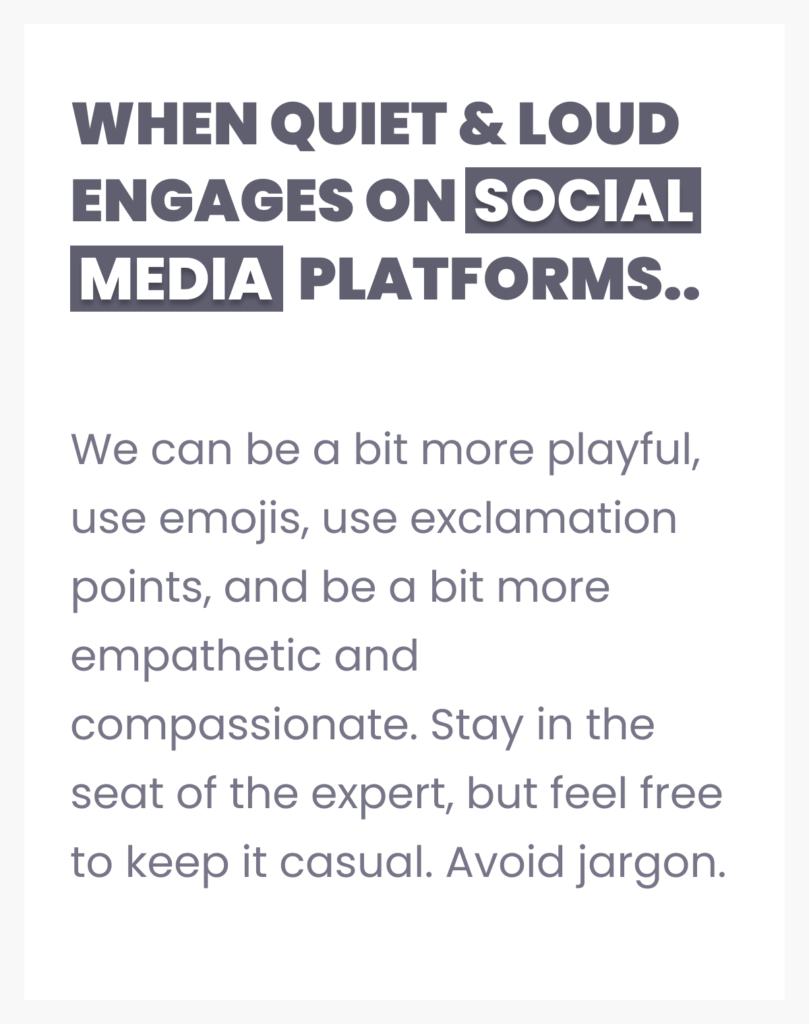 As you can see, we kept it short and sweet. This way it serves as a quick reminder of who we are as a company and how we act as a team.
We call these sheets 'identity snacks', and we'll have them throughout our day to make sure we're all aligned with each other!
Earth's Own as an example
Earth's Own (our go-to milk brand here at Quiet & Loud) has a combination of fun illustrations, quirky and fun copy. You'll find their brand voice is displayed in everything from their packaging to their social media captions and website.
In one of their recent Facebook posts, you can see brand messaging at its finest. It demonstrates their fun attitude, conversational speech and a little randomness thrown in. You never really know where their writing will go, which keeps things exciting.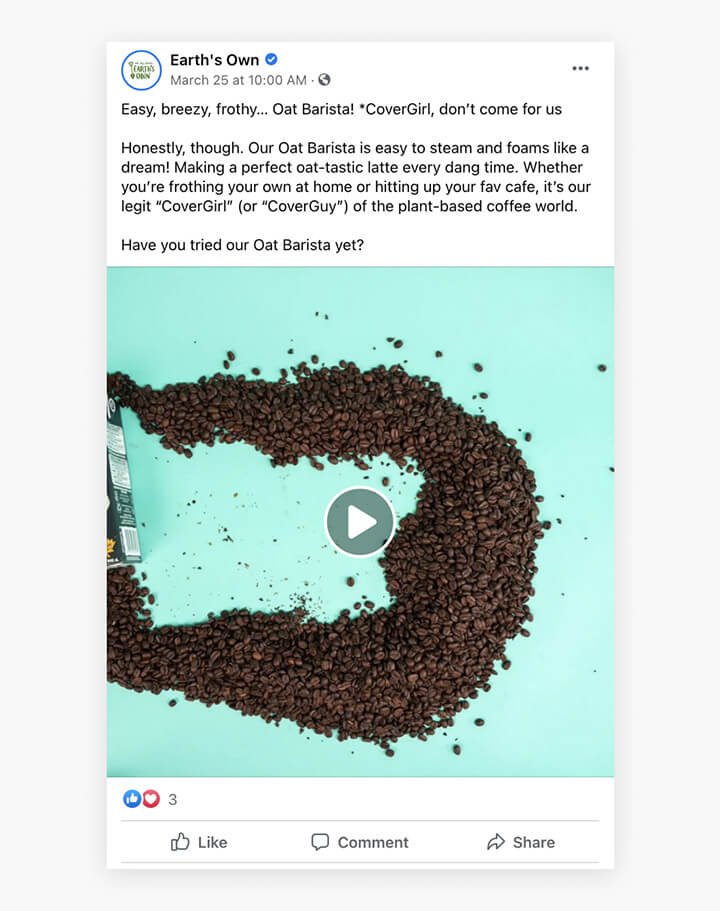 Adapt and evolve
Keep coming back to your style sheets and evaluate whether they are still relevant. Language changes over time and your brand does as well.
You don't want to catch yourself sounding out of date, so don't let it happen to your business either!
Conclusion
In the end, well-intenteded brands who strive to serve their customers the best they can will win the battle.
Don't make the mistake to think that you can put on a marketing mask and simply talk like your customers do to then expect to run a successful business.
Yes… a sleek marketing campaign with smart brand messaging will get you press and some new customers in the door. But they'll leave just as fast if they realize you're putting on a show. You have to walk your talk!
It's hard to ask yourself the right discovery questions and it can be extremely valuable to have a professional help you with this. At Quiet & Loud, we help companies like yours stand out from the crowd by differentiating them and connecting them with their customers. Drop us a line if you are ready to transform your business for success.