Customer data is worth more than oil.
As if today, the data we collect about our customers is the most valuable commodity in marketing. In fact, research states that customer data in today's economy is worth more than oil.
Here are some numbers to put this in perspective:
"Facebook and Google alone are worth $1.3 trillion, versus the combined value of the top five non-Chinese oil companies at $1.1 trillion."

Source: Innovating Canada
Why has this become so increasingly valuable over the last few decades?
Well, if brands can accurately develop customer profiles based on their real-world characteristics, they can predict what their prospects are struggling with and present them with answers to their questions.
This article is the final part of a three-part series on customer data.
Previously, we explored various methods of collecting data points on potential customers. We used methods like reaching out to prospects through interviews and surveys.
But we also looked at tracking user behaviour through analytics and purchase history.
In addition, we discovered how to properly document this data by learning what types of data structures we can create to make sense of it.
Finally, we briefly scratched the surface on how to analyze these insights.
This presents us with the next question:
How do we use this data to enhance the experience we deliver to our visitors and maximize return on our marketing investments?
This article will discuss exactly that.
Let's get to it!
Develop a content strategy
Use your customer data to come up with content formats that are most effective for your target audience.
For example, if you find your target audience consumes content through social media, you may want to consider developing more content in that format.
On the other hand, if your target audience prefers longer-form content, such as blog posts and eBooks, then you'll want to focus your content strategy more on that type of content.
Blog Posts
Developing any type of content strategy can take many forms, and there's no one right way to go about this.
However, one thing is for sure: it all starts with ideation.
Ideation is the process of coming up with content ideas that will be valuable to your target audience.
This is where your customer data comes in handy.
Customer data can give you a good idea of what content topics are most popular with your target audience, as well as content that may have been missed by your competition.
"According to HubSpot, content tailored to a customer's interests increases the likelihood that this content will be shared by up to 500%. "
By conducting long-tail keyword research, you can quickly uncover what questions are frequently being asked inside your niche.
To make this even easier, just go to Google and type in a few words that you know your customers are interested in, and see what is being suggested by the search engine.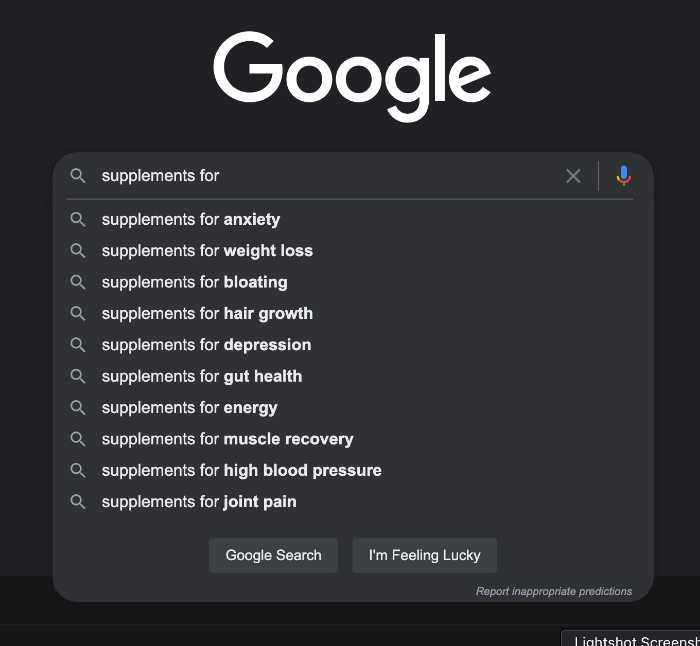 For example, if you sell health supplements, and you notice that many of your customers are interested in content about gut health, you can develop a content strategy around that topic.
Here are a few example blog headlines for health supplements for gut health:
10 gut health supplements you should be taking
The top 5 probiotics for gut health
How to improve your gut health through diet
4 natural ways to improve your gut health.
Perhaps you're selling natural plant-based supplements to improve focus and concentration. You can write articles with the following headlines:
5 ways to improve focus and concentration with plant-based supplements
The benefits of plant-based supplements for focus and concentration
Top 3 plant-based supplements for focus and concentration
How to choose the best plant-based supplement for improved focus and concentration.
Amazing, right?
Social Media
Knowing what your customer's pain points and frustrations are can also help you create a social media content strategy that drives engagement, increases traffic to your website, and ultimately increases sales.
Pay close attention in this part, because I'm about to give you valuable advice for efficiently using your time when developing a content strategy.
Start with ideating blog posts, like I did in this article, and then move on to your social media or email.
Why?
You can use it to re-purpose content ideas you came up with for the blog.
You see, in one blog post, you write about a topic from multiple angles and provide the reader with different solutions. If you are on top of your SEO game, you might even include a handful of statistics from different trusted sources to strengthen your arguments.
All of this can be used to create individual posts for your social media. You'll format it differently, depending on the platform you're posting on, but the content is all the same.
I'll use the plant-based supplements example I used earlier.
If I wrote a lengthy article about "The benefits of plant-based supplements for focus and concentration", I could have a blog outline with headlines that looks like the following:
Introduce the topic of plant-based supplements and their benefits.
H: "The Benefits of Plant-Based Supplements for Focus and Concentration".
Discuss the many types of supplements available .
H: "The Many Types of Supplements Available"
H: "What You Need to Know About Traditional Supplements".
Talk about the benefits of plant-based supplements for focus and concentration.
H: "Improves focus and concentration"
H: "Reduces anxiety and stress"
H: "Boosts energy levels"
H: "Helps improve mental clarity".
Offer tips for how to choose the right supplements for you.
H: "Do your research"
H: "Consider your needs"
H: "Look for quality supplements"
H: "Talk to a doctor if you have any questions".
From every headline you generate, you can create multiple or at least one social media post that you can use across every channel.
For example, on Facebook, I might do a status update that says: "Not sure what supplements to take? Check out this blog post for a comprehensive guide to the different types of plant-based supplements and their benefits."
On Twitter, I might share the top 4 takeaways, a statistic I used, and a link to the blog post paired with the hashtags "#health" and "#wellness".
On Pinterest, I might create an infographic with some tips from the blog post, like "5 Tips for Choosing the Right Plant-Based Supplements to Improve Focus".
Emails
You can approach creating emails for your campaigns in a similar fashion. Re-purpose your blog content to create email content.
Grab those headlines, reformat and change them up every so slightly to create catchy subject lines for your emails.
Voila! Now you have a laundry list of ideas for writing emails to your prospects and customers for the next couple of weeks.
A word of advice with email, however, is that you'll want to ensure a healthy balance between nurture emails and sales emails.
Ultimately, you don't just want to educate your prospects. You want to increase website traffic and increase sales!
The difference is that sales emails are shorter and more direct, with a clear call to action. They focus on persuading the reader to buy a product or service.
Nurture emails, on the other hand, are longer and more detailed. They provide value to the reader by educating them about a topic or building a relationship.
The golden ratio for nurture to sales content is 80/20. That means every 4 emails you send, you should include 1 sales email that calls the reader to action.
The more seamlessly you can incorporate those sales emails into your educational content, the more successful they will be at converting.
Ready to attract more customers?
We help brands like yours expand their social reach and attract more qualified leads by crafting marketing campaigns engineered for success. Get in touch with us and start generating results that have a tangible impact on your bottom line.
Schedule a call
Personalize your marketing
Personalized marketing is another great way to put the information you collected about your customer to good use.
Data points like purchase history, desired outcomes, and language can all be used towards personalization.
Purchase history
When you know what your customers have bought in the past, you can show them offers for things they might like, but also avoid showing them offers they have already purchased.
Did they purchase a single-blade razor on their last visit? Great! Now show them an after shave that pairs well with it to soothe their skin.
Customer language
You can also use their own language to personalize your marketing messages and make them more interesting to them. Read reviews, write down key phrases you hear when you interview or survey customers.
Research states that businesses who mirror their customers' language see an average of 17% increase in sales.
It truly is as simple as mirroring the language they use.
You might be skeptical about this at first, but trust me when I say this will result in a significant increase in engagement, click-through rates and conversion rates when you use it in your content, ads and website copy.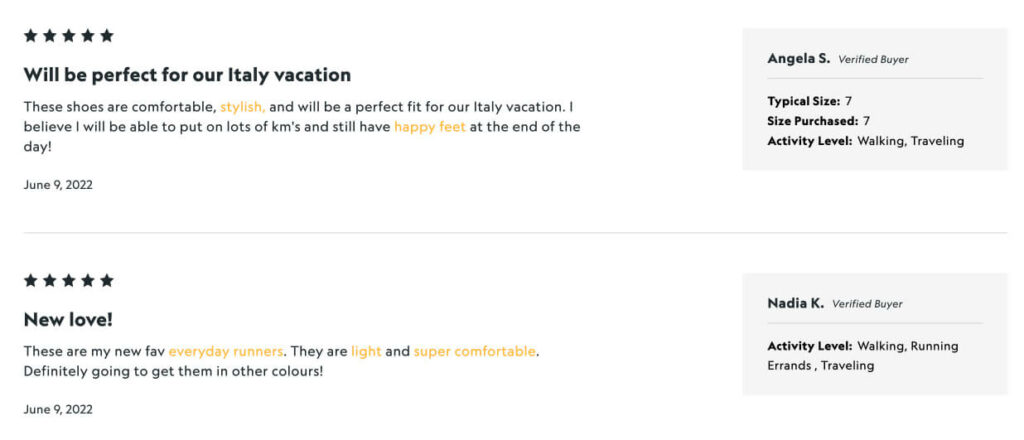 In the example above, we can grab words like "stylish", "happy feet" and "everyday runners" to create messaging that relates with our audience.
"Stop compromising on style and comfort, our stylish everyday runners will keep your feet happy all day long."
Desired outcome
Using our Allbirds example above, we can also use information we have about an individual customer's desired outcome to create emails or website copy that speaks to them on a personal level.
Example customer named Josh:
Gender: Male
Goal: Get lean and run a marathon
Obstacle: His feet get sore after running for longer than 30 minutes.
Values: Sustainability and quality
An email to him can include the following paragraph:
"Hey! Thanks for signing up. You're here to get lean, and we're here to help. Not only are we the most beloved sustainable shoe company in Canada, but we can also help you increase endurance, and reach your goal to run a marathon. Our everyday runners are designed to provide your feet with comfort for long distances, no more sore feet!"
And that's how it's done.
I won't go into the mechanics of how this can be achieved in post, but there is automation software that can make this a breeze for you. I suggest checking out RightMessage if you're interested in this.
Reduce paid advertising costs
One of the most profound ways to minimize your ad spend is to know everything you can about the people you want to show your ads to.
The more specific and accurate you are about your target audience, the easier it will be to display your advertisements to the right people and beat your competition.
See, Google Ads is an auction-based platform at its core, which means you have to bid for your ad to show up in front of users. If you understand how Google's Quality score works, you'll see that there are situations where having the highest bid doesn't always lead to a high position.
Google considers many factors to determine which ads deserve to show up in a higher position.
Click-through rate
The first factor is your expected click-through rate (CTR). This is a calculation of how often people will click on the ad. The higher the number, the better.
Imagine this scenario: 1000 people see the ad, and 10 click on it. The CTR is 1% (10 clicks / 1000 impressions).
Landing page experience
The second factor is your landing page experience. This refers to how easily users can find what they're looking for once they click over to your site.
Ad relevance
The third factor is your ad relevance. This refers to how well your keyword matches the message in your advertisements.
For example, if someone searches for yoga studios and your ad shows up, would your ad seem directly relevant to their search?
Google takes all these three factors into account, along with your bid, and turns it into your quality score.
The quality score ensures your advertisement shows up in front of the right people who intend to convert into a paying customer.
Since you pay for every click on your ad, you only want people to click on your advertisement if they intend to buy from you.
Improve customer retention
Finally, we can use customer data to retain more delighted customers.
Customer support chats or phone calls and review sections give us a lot of insight into what brands are doing right and not doing so well.
Taking this seriously will make it more likely for customers to become loyal to their brand and keep coming back for more.
The ones who leverage this will have a great advantage on their competitors.
You might think it's common practice for all brands to listen to their customers and actually make the improvements necessary, but that's not the case.
The example below is just a simple example of an Amazon product review section. You can quickly see what's wrong with this product.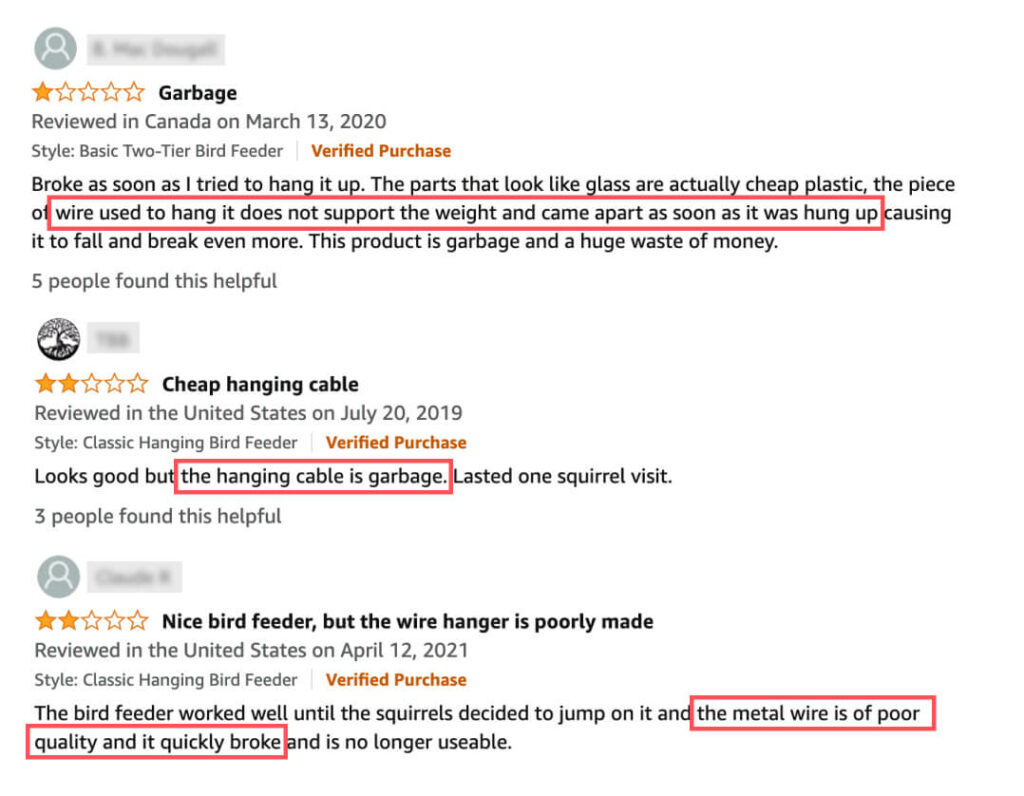 Your brand might have very few reviews to go off. If this is the case, it's high time to launch a customer voice campaign.
Just ask customers who have already purchased from you to write a review and create a rewards program that encourages future customers to leave one.
Here is something I learned from James Clear in his book "Atomic Habits". It also perfectly applies when you want to encourage a desired behaviour in customers, not just habits!
To increase the odds that a behavior will be performed, you have to:
Make it obvious
make it attractive
make it easy.
If customers are exposed to a wealth of opportunities to leave a review, it becomes hard to ignore. However, use your judgement and don't spam them with requests for reviews.
If it's rewarding to leave a review, you increase the odds even more.
I recently bought a few t-shirts and pants at Duer in Canada.
They automatically signed me up with an account and put me in their rewards program. There are different ways to earn points with little to no effort. They made this really easy!
Most importantly, I get money off on my next purchase, they get a larger social media following and more customer reviews.
It's a win-win situation.
Brands with curiosity will win.
By understanding our customers and their needs better, we can create more relevant and engaging content that resonates with them. Additionally, by taking the time to understand customer data, we can quickly reduce advertising costs and increase customer retention rates.
It's not rocket science to figure out how to stand out from our competition and to increasingly add more value to the people we serve. All we have to do is create the habit of talking to our customers and consistently asking them what they think.
Your marketing strategy will only be as good as your customers insights are accurate!
Ready to attract more customers?
We help brands like yours expand their social reach and attract more qualified leads by crafting marketing campaigns engineered for success. Get in touch with us and start generating results that have a tangible impact on your bottom line.
Schedule a call