Some of you might tell me that email marketing is a waste of time. "It's a dead marketing strategy".
With all the modern and rapidly evolving marketing strategies competing with email, you have every right to think that way.

You're probably receiving a dozen emails per day from businesses that are screaming for your attention. And let's be honest, the majority of these emails will remain unread forever 👎🏼

Next to this competitive marketing landscape, there's also a myriad of companies coming up with new ways for communicating with customers (take AI-driven chatbots for example).
How does email even stand a chance anymore? I'm here to tell you that email has been around for a long time and won't be going anywhere soon.

By the end of this article, you'll know:
why email marketing will be a clever investment for your business and
how you can get started today or even improve upon your existing email marketing strategy.
Why email is the currency of the web
It's the most cost-effective and time-efficient way to drive sales
Small business owners and entrepreneurs are dealing with limited budgets and tight deadlines ⏳.
Marketing through TV, print or direct mail can be very expensive. It's quite outdated and it takes a lot more time to be visible to the public.
Email offers a way to do this much faster, much cheaper and you can automate this process quite extensively.
Statistics prove that, when done right, email has a return on investment of $1 to $38. Meaning you get a 3,800% return for every dollar you spend on email marketing.

Source
Email doesn't care about your customers' age
You are likely to have a much bigger reach by using email simply because consumers of all age groups are still heavily using this platform.
In fact, a crazy 4 billion active users use email to this day. This is more than Facebook and Instagram combined (3.5 billion)!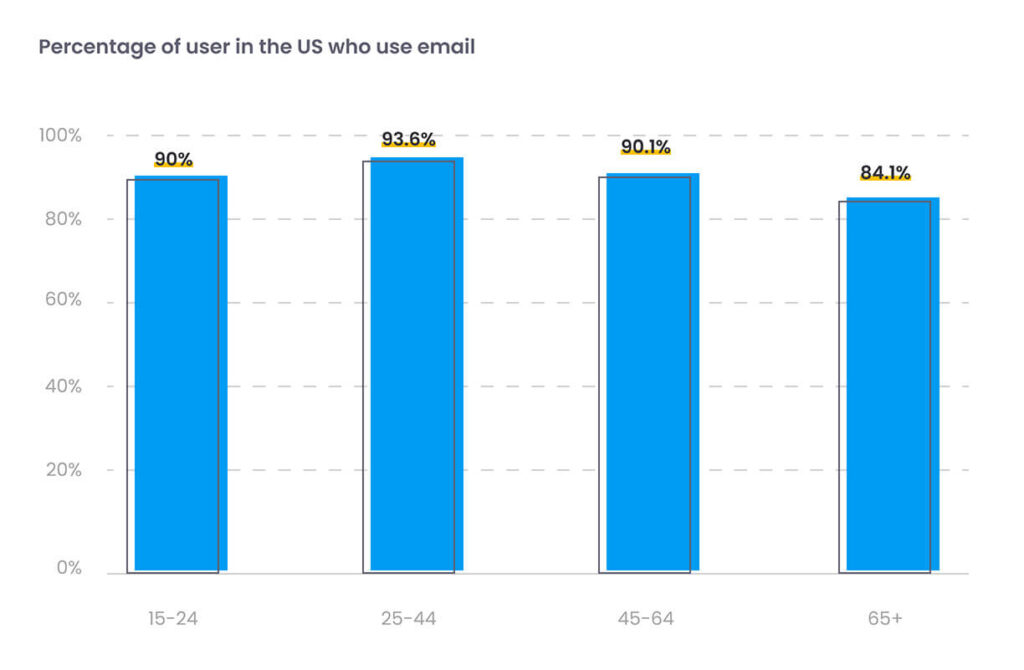 Why is this important? It makes email the most accessible platform to seamlessly integrate with your other marketing channels. Social media, webinars and content marketing can all be included in your email campaigns.
It's the most reliable channel for boosting conversions
Conversion rates are without a doubt one of your biggest priorities when it comes to running a successful business. It doesn't really matter what kind of business you run, ultimately your goal is to turn visitors into paying customers.
I've got good news for you, email marketing is one of the most effective conversion machines.
The average click-through rate of an email campaign is 3%, whereas the average click-through rate from a tweet is 0.5%.

Source
This means that your customers are 6x more likely to buy from you through email.
So when it comes to conversions, email is your best friend.
It's an easy way to deliver personalized messaging
I would be lying to you if I told you that your customers are waiting with excitement for your marketing emails. Having cluttered inboxes makes us want to find reasons to delete emails 🗑, not reason for why to open them. This is where personalized emails have a huge advantage over any other marketing channel.
Something as simple as using your customer's name in an email can make a huge difference in click-through rates. And you'll like want to take it a step further and provide them with content that is tailored to their needs.
This is all possible because of the countless tools that offer you in-depth analytics on the emails you send.
Create a successful email campaign in 4 steps
So, how do we actually get started with an email campaign 📬?
The following steps will lead you through the full cycle of creating an effective email campaign.
1. Create your email marketing strategy
To kick this off, we should focus on not getting lost in cluttered inboxes. We do this by strategically planning our campaign and identifying who we're sending this to.
Define who you're targeting
In one of our previous articles "Marketing for small business owners", I mentioned the importance of targeting a specific group of people. This too applies when sending out emails.

If your emails are not relevant to your customers' needs, it's unlikely they'll stick around.
Set goals
If you have never initiated an email campaign, you might want to consider researching average email statistics relevant in your industry.

Use these insights to set realistic goals that you can achieve in a reasonable time. A formula we use at Quiet & Loud is using SMART objectives. I wrote about this in "Marketing for small business owners".
Ready to attract more customers?
We help brands like yours expand their social reach and attract more qualified leads by crafting marketing campaigns engineered for success. Get in touch with us and start generating results that have a tangible impact on your bottom line.
Schedule a call
Choose your campaign type
Depending on the size of your business and the number of customers you serve, you may pick multiple campaign types or only choose one.

Here are some popular campaigns that you can choose from:
Welcome emails
These emails will be sent to all of your new subscribers. This email offers a chance to build a solid foundation for the relationship with your subscriber. Get to know them! Show them what you'll be offering them in return for their email.
Newsletters
Newsletters are meant for bite-sized pieces of information or value for your subscribers. When done right, they entertain or educate your subscribers.

The key with newsletters is to be consistent and concise. If you can even sneak in special offers exclusively to this list, you'll keep them hooked!
Standard promotions
These promotional types of campaigns are usually less personal and strategic. They are meant to promote your content, products or services.

If you can avoid these types of emails as much as possible, you have a higher chance of maintaining strong relationships with your subscribers. The 20/80 rule is a good way to figure out if you're promoting too much. You should offer 80% value and only promote 20% of the time.
Triggered emails
Automated campaigns! This campaign is the easiest of all to set up, since they simply get triggered through predicted user actions.

This includes when visitors click on a link in your email, put items in their cart, and decide to abandon at the checkout process. It can be triggered when a customer bought something, downloaded a piece of content, and so forth.
Re-engagement campaign
Say, a portion of your subscriber list hasn't opened one of your emails in over 6 months. This campaign gives you the opportunity to reconnect with them and potentially turn them back into active subscribers.

2. Build your list
After you've strategically planned your campaign, it's time for the fun stuff… filling your list with prospects that would like to hear from you.
In general, there are two ways you can collect subscribers for your list:
An enticing web form
This is a simple form most commonly located towards the bottom of your homepage or blog. There are a few things to keep in mind when designing a form that grabs visitors' attention.
Focus on simplicity
Your customers are more likely to fill out a form if it has fewer input fields and concise copy. Don't scare them away with long forms
Make the copy relevant to your offer
Don't try to deceive your customers into filling out their information by giving them fake promises. Those relationships won't last very long.
Design the complete sign-in process
Creating an opt-in form doesn't end with some input fields and copy. There must be a confirmation and thank you page they can land on after giving their information. This will give them trust that you'll deliver as you promised.
Offer value in return for an email (lead magnets)
This method is probably the most effective way to capture subscribers for your list and it's pretty straightforward.
You offer something valuable in exchange for their email. This can be something like a checklist, template, free webinar, access to a tool or an ebook.
If you choose this route, I'd recommend putting a little bit more thought into designing this piece of content than you would with a simple opt-in form.
3. Choose a tool / service
You have our strategy in place and a way to capture emails for your list. It's almost time to put everything we've learned into practice.
But before we do that, we need a tool to construct these emails and a service that will allow us to send them.
Luckily, almost all email services offer both the ability to design your emails and send them on one platform.
When you're looking to choose a service that is right for you, I would recommend you to look at the following criteria:
Do they have segmentation capabilities? (Meaning: can you create different lists of subscribers that get a unique selection of emails from your business?)
Does it include an easy-to-use visual drag and drop builder to design your emails?
Can you automate your emails? To what extend?
Does the service provide you with default spam prevention and comply with email regulations?
How detailed are their email analytics? This is crucial if you want to provide more personalized emails.
The following services are some of the most popular lightweight options for simple email campaigns:
If you are a business with over 20k subscribers, I suggest looking into some more advanced and pricier services. They offer a wider range of features and better support.
4. Measure your results
Congratulations 🎉! Pat yourself on the back because you're ready to craft some amazing emails that will grow your customer base and help you strengthen client relationships.
So far, you've learned how to create an effective email marketing strategy, how to build an email list and how to choose the right tools for your business.
The final step is to analyze the data you get after initiating your campaign and to use those insights to craft more personalized emails.
But what do I look for in these metrics?
Fantastic question! I'll give you four elements you should pay close attention to in your email campaigns:
Deliverability
Are your emails landing into your subscribers' inboxes or spam folders? Make sure you follow industry best practices to avoid this.

This includes not writing misleading subject lines, sending from a secure IP address, keeping engagement rates high and attaching your physical address in the email (you legally have to do this)
Open rates
This represents the percentage of subscribers that actually open your emails.

A tip here is to write catchy and personalized subject lines
Click-through rates
Click-through rates are the conversion rates but for emails. The percentage of people that go a step further than just opening your email and actually click on the call-to-action buttons.

This metric depends on the simplicity of your emails and how you structure them. In this article, I dive a bit deeper into designing for conversion.
Unsubscribe rates
This one speaks for itself. It is the number of people opting out of your list once they receive an email from you.

If these rates are high, consider evaluating the content you are providing with these emails. Are they aligned with your brand and relevant to your audience? Are you delivering on your promises?
Conclusion
That's it, folks!
As a small business owner, you have many channels available to reach your customers, but with limited time and resources, you need to prioritize your marketing efforts.
The fact is that over 81% of small businesses today rely on email to reach customers and it's an appealing approach for us entrepreneurs to market ourselves while being cost-effective.
I hope that this short guide to email marketing was of any value to you.
When you work with us at Quiet & Loud Design, we offer to help you with this entire process so you can provide a complete and seamless experience to your customers. You can go to our contact page or directly email us at hello@quietandloud.com for inquiries.